Pirate Cat Costume
Do You Love Funny Cats?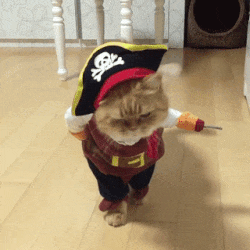 Turn Your Cat Into A PIRATE CAT With This Cute Costume!
 Super Easy To Put On! Even If You Have No Experience Clothing Your Cat..
 Perfect For The Halloween, Christmas, Weddings or a Photo Shoot, Even for Everyday Laughs.
 Finely Detailed Costume & Looks Great on Absolutely EVERY Cat!
Size S: Up To 10 lbs.
Size M: Up To 15 lbs.
Load More